Invest In A Boat Windshield Cover Today And Say Goodbye To Costly Rock Chips & Cracks
One Important Part Of Boat Maintenance Is Ensuring Your Windshield Stays Free From Chips And Cracks

If you're a boat owner, then you know that keeping your vessel in good condition is essential for enjoying more quality time out on the water.

In our research, we have found that many boat owners are concerned with rock chips breaking the glass when trailering their boat.

This often leads them to wonder, "How do I protect my boat windshield from rocks?"

Because boat windshields are often exposed to the elements while trailering, they are highly susceptible to becoming easily damaged by flying debris from oncoming vehicles.

Not only are chips and cracks unsightly, but they can also cost you a lot of time and money to get them fixed, especially if they are not fixed right away.

Which ultimately equates to less time out on the water for you.

Fortunately, there are ways to protect your windshield from these damages and in this article, we'll share with you the best…
The Best Way To Protect Your Boat Windshield From Rocks
Why You Definitely Want To Protect Your Boat Windshield From Rocks:
1.) THE ACTUAL COST OF REPLACING A BOAT WINDSHIELD:

It only takes that one time for a rock to find that perfect spot on your windshield to ruin your day. It's not just the money you'll spend, but the time and hassle of it all.

Here's what one boat owner had to say about not only the actual cost of replacing his boat windshield but also the amount of time it took as well.
"This past Thanksgiving weekend, I had a rock go through the port side of my Taylor Made windshield while returning from fishing Lake Michigan. I took it to the Taylor Made manufacturing facility. This was about a 90-minute drive, and the cost was a little over $500.00. So, I invested 3 hours of driving and a little over $500 plus the time to clean up the mess."

OldFootCoc – Walleye Central
2.) RISING PRICES AND INCREASED SHIPPING TIME FOR PARTS:

Unless you've been living under a rock, it's safe to say that inflation has hit us and so have supply chain backups.

So if you thought to not use a boat windshield protector and now have to replace your boat's windshield, you'll be spending more money and time waiting for it to finally arrive.

3.) PROTECT YOUR BOAT'S WINDSHIELD FROM BUGS

Nothing is worse than scrubbing off dead bugs from your boat windshield once you get on the water or back home.

Use a boat windshield cover to ensure that you have peace of mind from rocks and other flying debris and arrive on the water with a clean windshield free of disgusting bugs.
Not All Boat Windshield Protectors Are The Same
There are two main types of boat windshield protectors you can buy:

• Universal Fitted Boat Windshield Cover
• Custom Fitted Boat Windshield Cover

Here At Caribou Upholstery, We Only Recommend Custom Fitted Windshield Covers.
The reason for this is that we know you've spent a lot of money on your beautiful boat, and we only recommend the highest quality parts and services when it comes to protecting your investment, and one of those things is by investing in a high-quality custom fitted boat windshield cover.
Downsides To Buying A Universal Fitted Boat Windshield Cover
You can buy universal fitted boat windshield covers, but we will discuss why you just might not want to spend your hard-earned money on them.

• TruXedo Boat Windshield Cover: $150.00USD + Shipping

• Kikn' Rox Rock Shield: $240.00USD + Shipping

These are two names you'll probably run into when looking for options on how to protect your boat's windshield from flying rocks and debris.

The issue with these is that they are Universal Fitting and there are quite a few downsides when using universal fitted boat windshield covers:
1.) THERE'S REALLY ONLY ONE SIZE AVAILABLE:
One concern among many boat owners is that there's really only one size available.

Obviously, many boats come in different shapes and sizes, some with walk-through windshields, Rounded, etc.

So for many boat owners, a one-size solution boat windshield cover is not a solution at all.

Another problem with a one-size option is that it won't fit snugly, and this will shorten the life of your universal one-size windshield protector.

Here's what one boat owner had to say about driving down the highway when his windshield protector wasn't fitted:
"It's amazing how little it takes to get a good flap going, and once that happens, it's all downhill from there."

BlackDogMafia – The Hull Truth
2.) THE TRUXEDO BOAT WINDSHIELD COVER IS NOT A DURABLE/QUALITY PRODUCT:
Many boat owners have said that the Truxedo is priced well, but unfortunately, the quality follows that cheap price as well.

Take a look at what a few boat owners have said about the Truxedo:
"The first season I used the Tux, I ran the foam side out, and the wind vibration caused the felt to rub the paint off of my 621 windshield frame. Now into the second season, the foam has broken where the straps are sewn in. This is certainly NOT a durable product but it is now really expensive, either. I use it to keep the bugs off of the windshield, so will probably look at something else next time, as this is a disposable product."

Clawman – Walleye Central
"The Truxedo covers are kind of chincy in my opinion."

Rizzo– Nodak Angler
3) THESE BOAT WINDSHIELD COVERS ARE AVAILABLE IN THE USA BUT HARD TO FIND IN CANADA: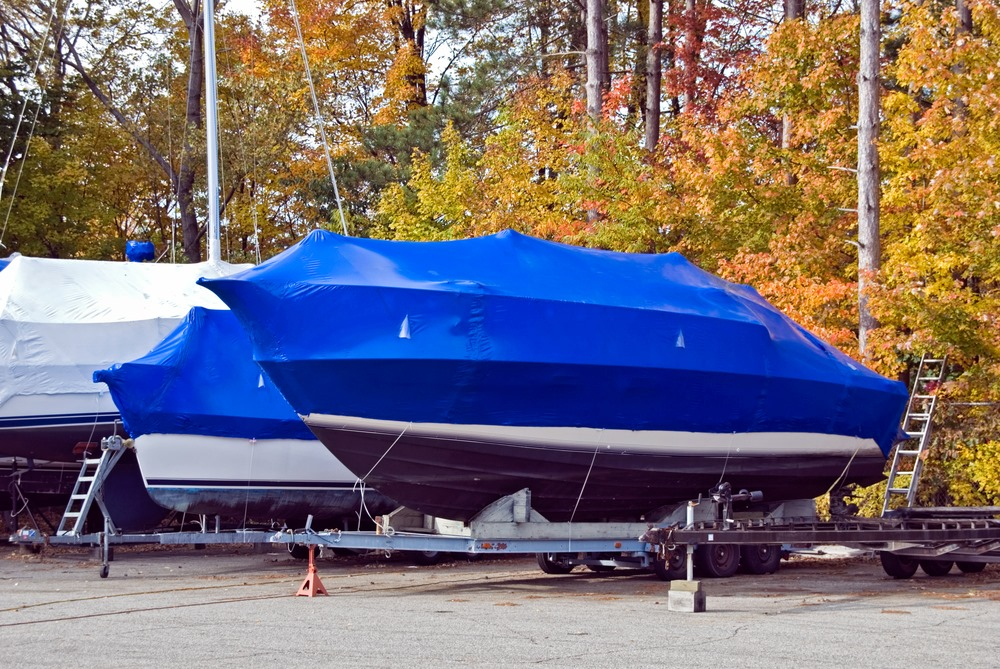 If you're from the north up here in Canada, you'll have a hard time getting one of these boat windshield covers.

Then by the time it gets to you after shipping, taxes, and exchange rates…

You'll probably have a far inferior product than if you were to have invested in a custom fitted boat windshield cover.

Here's what one boat owner up here in Canada had to say about how much it cost to replace his windshield and how difficult it was to find a similar product:
"I recently blew out one side of my boat glass from a rock off the truck after being lazy with my tarp. learned the hard way as they are 1400 dollars. I have found a Truxedo boat windshield bra that looks pretty slick and quick to use at a reasonable price all over the states. Trying to find one here has proven impossible, and shipping it across from an American retailer just seemingly will not work right now, potentially due to the virus I suppose. Anyone use a similar product or know any local retailers that may be able to get their hands on one?"

WildAlberta –Outdoorsman Forum
4) Why Buy a Lemon of a Boat Windshield Protector:
You know, when you buy a car, they always say, "Don't buy a lemon."

Meaning the car is highly flawed, and has several manufacturing defects affecting its value or utility.

It's the same thing with buying a universal "one-size fits all" boat windshield cover.

Don't buy the cheap one and try to jazz it up with snaps, straps, and other things.

Because in the end, you'll waste so much more extra time and hassle trying to make an inferior product better.

Here's a boat owner explaining this very process of jazzing up his cheap product.
"I have now purchased a Truxedo windshield cover from Cabelas for about $140.00. It fits my 1775 Impact pretty well, and as soon as this home quarantine is over, I will take this Truxedo product to a local canvas shop and have two grommets installed and some snaps. The Truxedo product secures in place with straps, but my windshield has two post-type bumpers, and I think grommets could be installed to go over these posts. I will ask the canvas shop to install some snaps on my new Truxedo product to better secure this product."

WildAlberta –Outdoorsman Forum
The Amazing Benefits Of A Custom-Fitted Protector for Your Boat Windshield:
Now that you can see why we only recommend investing in a high quality custom fitted boat windshield cover, here are a few of the benefits that make them shine over the competition:

1.) Boat Windshield Rock Guard That Is EASY TO TAKE ON AND OFF:

Custom fitted boat windshield covers snap on and off in seconds

2.) YOU WANT YOUR WINDSHIELD PROTECTOR TO HAVE A SNUG FIT:

Because they are custom fitted to your exact boat windshield size, this helps keep the wind from getting underneath and tearing it off.

3.) BOAT WINDSHIELD PROTECTORS LOOKS DARN COOL:

Let's be honest, who doesn't like to show off their beautiful boat when they get to the water?


Having a custom fitted boat windshield cover gives your boat that sleek sharp look, compared to someone having to jimmy together their "one size fits all" cover.
In Conclusion: How Do I Protect My Boat Windshield From Rocks
Boat windshields are exposed to the elements, so they can be easily prone to damage.

One way you can help protect your boat's windshield is by using a custom-fitted windshield cover when not in use.

You know that using a custom fitted boat cover is the way to go, well so is using a custom fitted windshield cover.

Rock chips and cracks will often become bigger problems if left unchecked, so it's important for boat owners with damaged windshields to act quickly.

By taking these simple precautions, you can extend the life of your boat's windshield and avoid costly repairs down the line.

For more information on how Caribou Upholstery can provide custom fitted windshield covers for your boat, call us today!